COMMERCIAL UMBRELLAS
Flare Shade's commercial umbrellas have been designed for permanent outdoor installation, unrivalled in their strength and durability. Whether it be a 100 or 200 series frame, there's no limit to the application or environment in which a Flare Shade commercial-grade umbrella can stand. The 10cm diameter and 8 mm thick pole profile certifies their fortitude against inclement weather conditions and long-term setup. With a flare for action as well as attraction, our heavy duty umbrellas are sure to impress in any setting.
X100 SERIES
The X100 Flare Shade commercial umbrella is available in either 5×5 or 6×6 metres.  The X100 can be installed either permanently or used at outdoor agricultural trade shows and exhibitions by incorporating our custom base plate. The X100 frame is manufactured from marine grade extruded aluminium and has a 5 year warranty for manufacturers defaults. The canopy is available in either Spanish Recasens or Italian Para-Tempotest high performance fabrics. Custom printing options are also available.
CLOSED PROFILE
GROUND BASE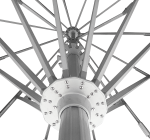 TRUSS BAR CONECTION
Y100 SERIES
The Y100 Flare Shade centre pole range is available in 5 or 6 metres diameter. This robust modern European styled umbrella  is suited for permanent and semi-permanent applications. The Flare Shade custom base plate also allows this structure to be used at trade fairs and events. The canopy is made from renowned imported Spanish Recasens or Para-Tempotest fabric that has a five year fade resistance warranty. Custom printing is also available for businesses, restaurants and cafes that want to promote their brand.
CLOSED PROFILE
GROUND BASE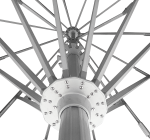 TRUSS BAR CONECTION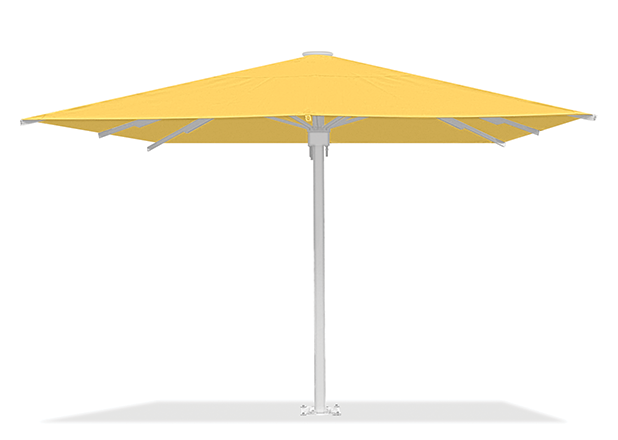 X200 SERIES
The X200 series is the strongest outdoor commercial umbrella on the market. The Flare Shade X200 is available in 4×4, 4×5 and 5×5 metre square umbrellas. The centre pole is made from a massive 105×105 mm square cross section extruded aluminium with an internal circular ribbed reinforced tube. The base plate and pole are hinged to allow easy installation. The X 200 canopy is available in either a high performance Italian Para-Tempotest fabric or Spanish Recasens fabric. Recasens is a family business founded in Barcelona in 1862 and has been a world leader in fade resistant outdoor textiles. The X 200 series has full engineer certification.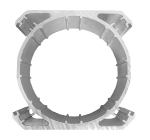 Pole Profile
Truss Arms
Ground Base

Y200 SERIES
The Flare Shade Y200 umbrella range is as strong as it is stylish. Its modern European design comes in a choice of four octagonal sizes. From 4 metres diameter all the way up to a massive 6 metres diameter makes this series one of the most impressive and imposing commercial umbrellas on the Australian market. The marine grade aluminium has a 10 year warranty against manufacturer's defaults. The imported Spanish Recasens and Italian Para-Tempotest high performance fabrics have a 5 year fade resistance warranty. There is a large range of vibrant plain or striped colours. Custom branding is also an option for those wanting to promote their restaurant name or company logo. The Y 200 has been fully certified by our structural engineer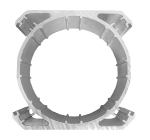 Pole Profile
Truss Arms
Ground Base
PVC SUPER HEAVY DUTY
The PVC Super Heavy Duty commercial umbrella range is strong, reliable, and contemporary with a streamlined European design. They'll provide respite to your guests and enhance your outdoor vista – at the same time! This super heavy-duty umbrella is waterproof, fire retardant and is UV 50+ atop powder coated frame with 90mm aluminium pole. The canopy is made from a heavy duty PVC with a "block-out" layer in the middle of the fabric to stop stop light and UV radiation penetrating.
Roof Profile
Adjustable Arms
Ground Base
FEATURES
Developed for permanent outdoor installation, Flare Shade's range of commercial and heavy duty umbrellas are unrivalled in their strength and durability. Whether it be a 100 or 200 series frame, there's no limit to the application or environment in which a Flare Shade commercial-grade umbrella can stand. We also offer commercial café umbrellas and commercial cantilever umbrellas.
Robust Centre Pole
Flare Shade heavy duty umbrella frames consist of a herculean centre support pole measuring 10cm in diameter, made of 4mm thick marine grade extruded aluminum. The Y Series frame features cable management space behind a sturdy exterior plating which fits seamlessly within the pole.
Numerous Colours
Distinguish your umbrella with the choice of several dozen vibrant colour options for the canopy fabric. You can also choose between a silver or black anodized frame finish for added personalization.
Sturdy Bases
The unique X & Y Series base plates offer a sturdy foundation for any size Flare Shade commercial umbrella. The frame pole comes fixed to a hinged plate to allow safe securement of the ground base before erecting the umbrella frame.
Multiple Fabrics
Three types of material are available for the heavy duty canopy tops. Choose between the affordable PU-coated polyester, imported Spanish Recacril by Recasens or imported long-life Italian Tempotest by Para.
WARRANTY
Our complete product selection is backed by warranty cover specific to each range. 
UV PRINTING
State-of-the-art UV print technology is available on certain materials for maximum colour retention. 
WIND RESISTANT
Flare Shade umbrellas are steadfast in all weather conditions including heavy winds and rain. 
WIDE RANGE OF COLOURS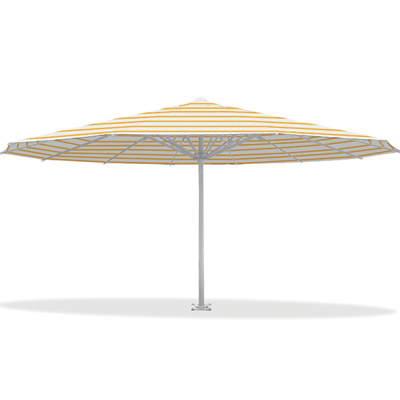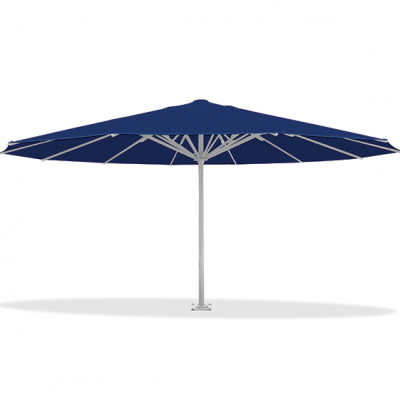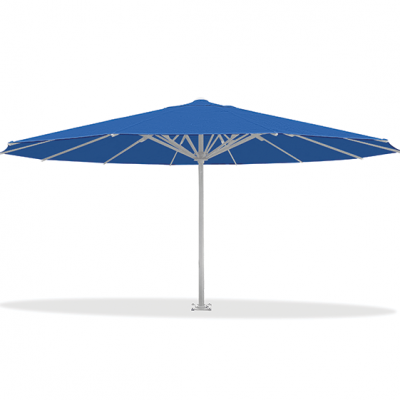 FAQ
How long will a Flare Shade commercial umbrella last?
A heavy duty Flare Shade umbrella can last you many years of sustained use if properly maintained. We recommend a regular cleaning regime to keep the structure free of dust or any stagnant moisture. Warranty cover is offered on an initial period of 5 years regarding any manufacturing faults and defects with the frame.
Will the umbrella fabric fade?
Eventually all fabrics fade with prolonged exposure to sun and weather, no matter the grade or properties. However, whether it's Olefin, the imported Spanish or Italian fabrics, polyester, PVC or Flare Shade acrylic, an initial warranty period is offered on all Flare Shade canopy materials as assurance against untimely colour fading.
Can I wash the heavy duty umbrella fabric?
Yes! You can easily give your commercial umbrella canopy a fresh, clean look by using a mild detergent on the fabric. This can be a common dish washing detergent mixed with warm water. Then rinse and allow to dry.
Are plain coloured umbrellas available for immediate delivery?
Please allow roughly 3 weeks for delivery of plain umbrellas. Most Flare Shade umbrellas are produced on an order by order basis due to the fact that there are so many colour and fabric options available.
Can I replace the umbrella canopy?
Yes! – The top canopy can be purchased separately from our umbrella frames if replacement is needed. All Flare Shade accessories are available for independent purchase.
Are square or octagonal shape umbrellas more popular?
The square and octagonal umbrellas are both popular options. Traditionally, the octagonal shape canopies have been most prominent due to their proportional coverage. The deciding factor is ultimately up to your available space and personal aesthetic preferences.
Should I take my commercial umbrella down in a storm?
It is recommended to take the umbrella down prior to severe weather events such as cyclones to prevent structural damage and personal injury. At minimum, the canopy should always be closed during intense rain and wind conditions.