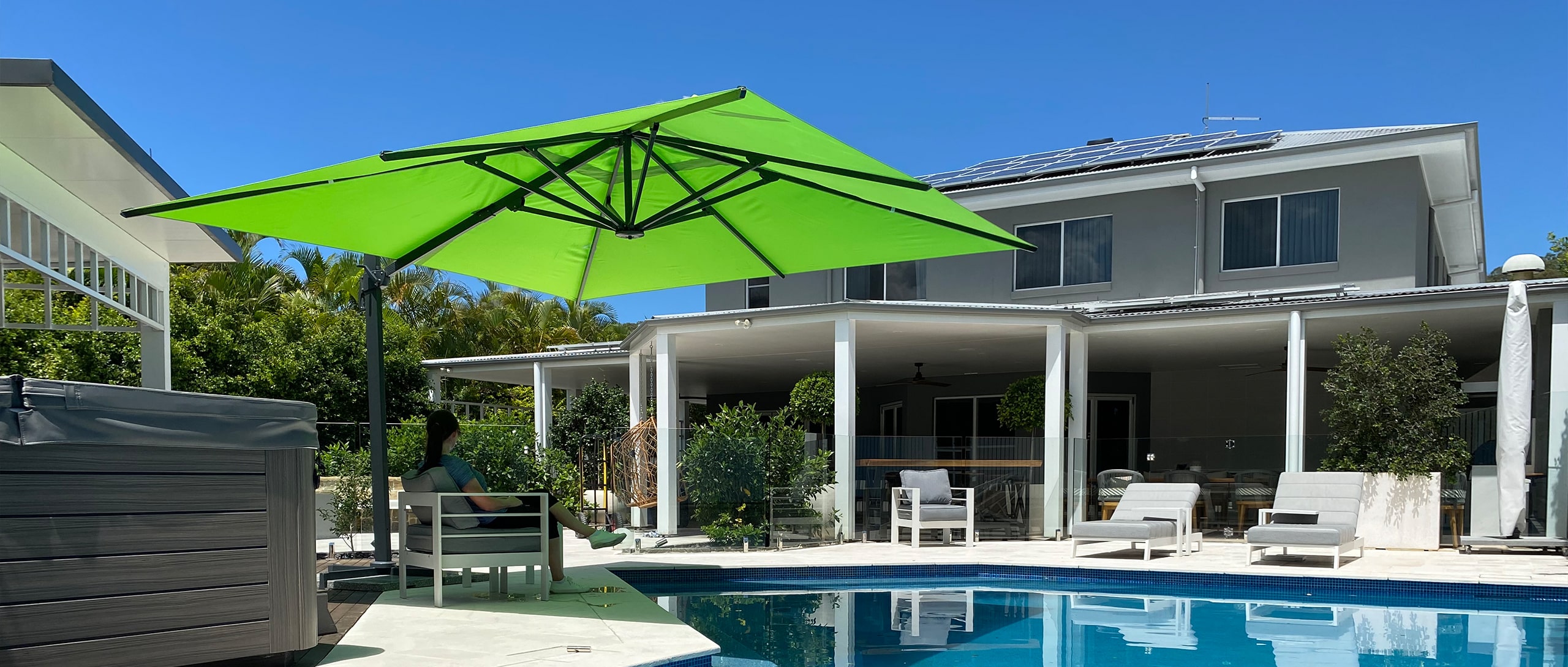 CANTILEVER UMBRELLAS
Flare Shade Cantilever Umbrellas are a modern, streamlined European styled shade solution. The canopy can be rotated through 360 degrees so that the shade can be positioned exactly where you need it. Furthermore the canopy can be tilted to block even more of the sun from a range of angles. As the sun moves, so can your cantilever umbrella. Rotate it to keep you in some cool shade while standing at the barbecue cooking. Then rotate and tilt the cantilever umbrella to cover everyone at the table. Like all Flare Shade products, the cantilever umbrella is a premium shade solution that has been designed and engineered to be durable, strong and pass the test of long term use in permanent and semi-permanent applications. The Flare Shade cantilever umbrella can be permanently fixed to timber decks or concrete poolside areas or can be attached to our range of base plates. Read More
SQUARE CANTILEVER
The 3.5m x 3.5m and 4m x 4m Square Cantilevers umbrella are perfect for use at home, over the patio or poolside in your own backyard.
ADJUSTMENT HANDLE
POLE & TRUSS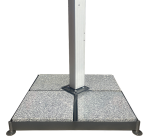 BASE
OCTAGONAL CANTILEVER
This Cantilever umbrella comes neatly displayed in an octagonal canopy shape and dual pole side support setup, freeing up any spatial obstruction from the frame whilst delivering superior strength and durability.
ADJUSTMENT HANDLE
POLE & TRUSS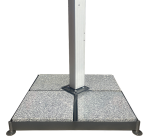 BASE
CUSTOM PRINTED
Flare Shade offers a custom printed cantilever umbrella solution for restaurants, resorts and cafes that want to brand the canopy of their umbrella. One to four colour custom printing is available to print business logos, names or other graphics. Flare Shade has an in-house custom printing department with onsite graphic artists that can discuss your printing requirements. For custom printing on Recasens or Para Tempotest imported fabric Flare Shade uses a screen printing process. Screen printed umbrellas offer long term fade resistance for both the fabric and the custom branded logo or graphics.  Custom printed canopies are a great way to turn shade into a promotional outdoor cost effective solution. Artwork should be sent in either PDF or EPS files. Our Flare Shade graphic artists will render a 3D visual mock up and an artwork template to be checked before printing is commenced.
Cantilever Umbrella V's Centre Pole Umbrella
Cantilever umbrellas and centre pole umbrellas both have advantages depending on use and location. The significant feature of a cantilever umbrella is that the pole is to the side of the umbrella canopy. This allows for uninterrupted shade below. A table and chairs can be set up directly underneath without a centre pole being in the way. A table and chair setting can be moved into any position under a cantilever umbrella. The second feature unique to a cantilever umbrella is that the umbrella canopy can be rotated through 360 degrees. This functionality is a major feature and benefit of this series of outdoor umbrellas. As the sun moves, so can your shade. The entire cantilever umbrella sits on a bearing base allowing it to be easily rotated by one person. This function is also perfect if your cantilever is set up poolside. If you feel like lying under the sun you can rotate the umbrella to one side. Should you then prefer some cool shade, simply rotate the umbrella back into place. A third handy feature is the ability to tilt the canopy. This adjustment allows for the canopy to be set in the perfect location to block the sun. These features make the cantilever umbrella one of the most popular umbrella in the Flare Shade range. Cantilever umbrellas are made from a beautiful polished extruded aluminium. The frame and ribs are reinforced and provide stability and strength. Cantilever umbrellas can also be custom printed with logos and business names making it a great outdoor promotional product.
Centre Pole umbrellas also have an advantage and come in a variety of styles and strength. Cafe umbrellas and commercial umbrellas such as the Flare Shade 100 and 200 series have always been popular in restaurants, cafes and poolside areas. Cafe umbrellas are general a lighter weight and have a smaller diameter than cantilever umbrellas or commercial umbrellas. Flare Shades cafe umbrellas are beautifully crafted with a signature 30 face extruded aluminium pole and reinforced pole. The 100 and 200 series are designed for more permanent applications and are generally bolted to the ground. Commercial umbrellas come in a variety of sizes including a very large 7 metre umbrella. As cantilever umbrellas are a movable umbrella they do not have the strength of permanent centre pole umbrellas.
Cantilever umbrellas, cafe umbrellas and Flare Shade commercial umbrellas are all available in imported fabrics from Italy and Spain. Recasens is from Spain and boasts a 5 year fade resistance although will fare much longer. Recasens was founded in Barcelona in 1886 and is a proud third generation  company. Flare Shades second fabric is Italian Para Tempotest . This fabric is world renowned for its ability to weather permanent sun conditions and its long life durability. Para Tempotest was founded in 1921 and is a high performance textile. The advantages of cantilever umbrellas will depend on the users requirements however it is one of the most versatile umbrellas on the market. You will also be interested in viewing our ranges of commercial café umbrellas and commercial grade outdoor umbrellas.
Handy Side Support
The word cantilever refers to a horizontal structure that is fixed or supported at only one end. As the name implies, cantilever umbrellas rest upon a side-standing adjustable frame pole. This affords unrestricted cover and maximum shaded area for the user.
High Quality Fabric
We offer mutliple choices of durable, long-lasting canopy fabric for the cantilever umbrella top. Both Italian Tempotest and imported Spanish Recacril are known for their resilient and enduring characteristics, ideal for all weather conditions.
360° Rotation
The unique cantilever umbrella frame features full rotational functionality for conveniently positioned shade no matter the direction of rain or shine.
Durable Rib Network
A sturdy web of extruded aluminum support bars braces the umbrella span, simultaneously fortifying the frame structure and bolstering the canopy span.
WARRANTY
Our complete product selection is backed by warranty cover specific to each range. 
UV PRINTING
State-of-the-art UV print technology is available on certain materials for maximum colour retention. 
WIND RESISTANT
Flare Shade umbrellas are steadfast in all weather conditions including heavy winds and rain.