POP UP GAZEBOS & MARQUEES
The Flare Shade pop up gazebos and printed pop up marquees range have been manufactured and sold globally since 2003. The Flare Shade folding gazebo is available in the commercial grade all-aluminium FX6 or the super heavy duty FX7. Read More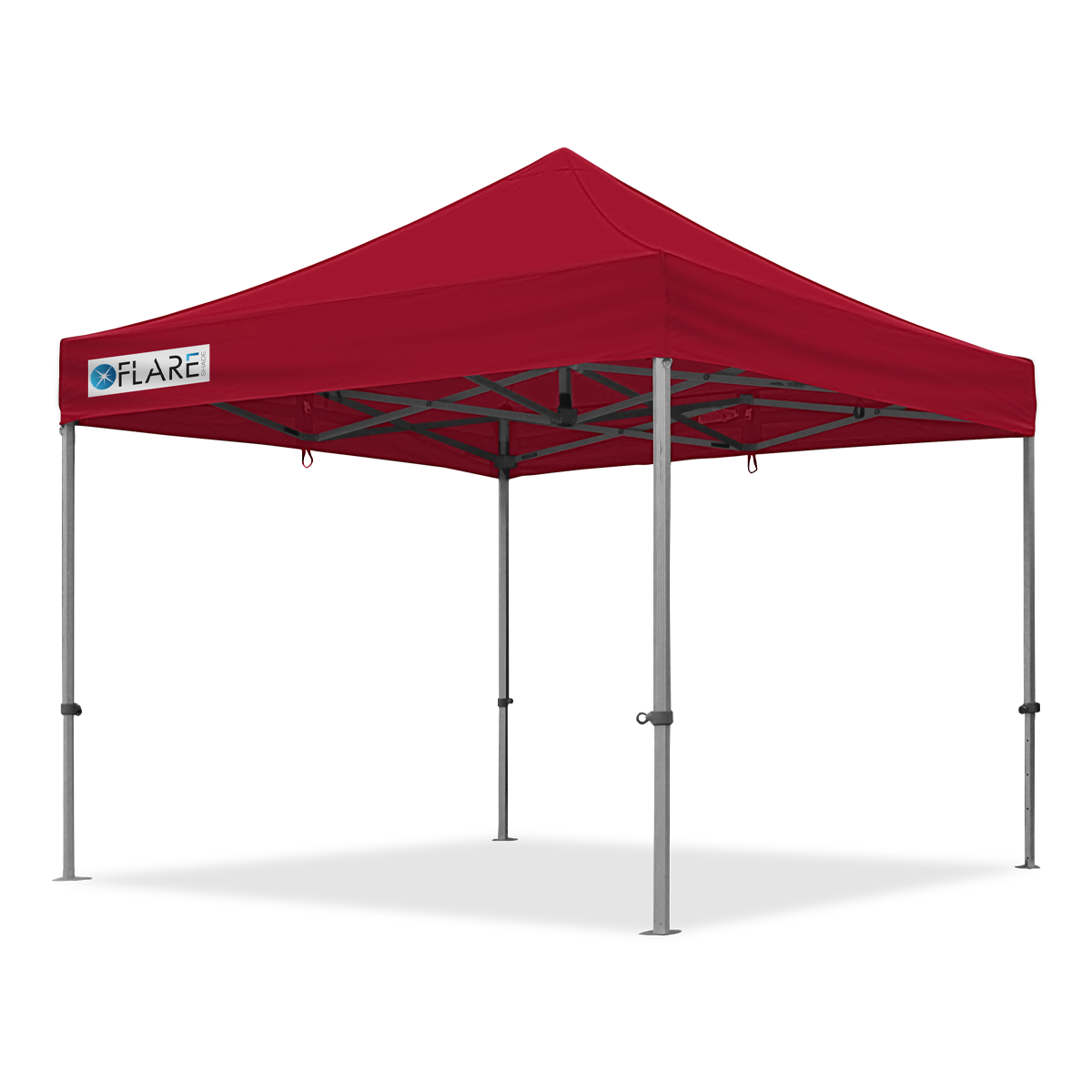 The FX-6 pop up gazebo is a commercial grade heavy duty shade structure. The legs are made from a stylish 45mm hexagonal tube that is 1.5mm thick. Truss bars are reinforced to give lateral strength. All the FX-6 connectors are made from extruded aluminium which makes the FX-6 the strongest 45mm hexagonal marquee in its class. The FX-6 plain or printed gazebo is available in the following sizes: 3×3 gazebo, 3×4.5 gazebo or a 3×6 gazebo. All FX-6 gazebos can be set up by two people in approximately 60 seconds.
The FX-7 folding marquee is sold globally and is the heaviest, commercial grade shade structure in its class. The FX-7 has been engineered for strength and designed to withstand adverse weather conditions when setup in accordance with instructions. Manufactured using 57mm T6 hardened extruded aluminium and oversized truss bars, this folding marquee will endure conditions other shade structures cannot. The FX-7 has a full written engineers' certification which includes weights that should be applied and hold-down methods. Cutting edge Ultraviolet printing is also available for long life fade resistant gazebo branding.
Printed Gazebos & Branded Marquees
Flare Shade offers full colour digital printing on all marquees and gazebos. Whether it is a 3×3 printed gazebo, a 3×4.5 printed gazebo or a 3×6 printed gazebo, Flare Shade has a fully qualified professional graphics department that can assist you through each step of the way. A free visual custom printed mockup is available to see how your artwork will present on the marquee or gazebo roof. Printed marquee walls are also available and can be branded on one or both sides. Flare shade offers standard sublimation custom printing and also cutting edge ultraviolet long life printing. UV printed gazebos will last three times longer than standard gazebo printing. Custom printed marquees and gazebos normally require 10-14 days production time; however, a VIP fast track printing service is also available. Custom printed and branded marquees are a great way to promote your business, club, school or company. Artwork templates can be downloaded from our resources page or you can call and speak directly with one of our custom printed marquees and gazebo consultants.
FEATURES
Flare Shade features a quality range of pop up folding Marquee solutions, supplied by the reputable manufacturer Extreme Marquees. The Extreme Group has been in operation since 2003 as a leading producer of outdoor branding commodities. Both plain and custom printed Extreme Marquee products make for a fine compliment to any range of Flare Shade umbrella. We are also a leader in Commercial Café Umbrellas and other premium shade solutions.
Digital Printing
Extreme Marquee pop up tents can be fully custom branded through a digital sublimation technique, or upgraded to UV technology printing for enhanced colour definition and lifetime.
Aluminum Frames
Featuring a 45mm or 57mm leg profile respectively, the FX-6 and FX-7 tent frames are assembled from high quality extruded aluminum that's been anodized for increased wear-resistance.
Easy Setup
Extreme Marquees folding tents are quick and simple to set up. By pulling the centre cross bars outwards the full frame structure expands concurrently, making one-person setup achievable and two-person setup a breeze.
Accessories
An accessory kit comes included with all Extreme Marquee pop up packages. This includes tie down straps, ground stakes and a protective cover bag for the frame. Additional accessories are available such as side walls, sandbags, weight plates and more.
WARRANTY
Our complete product selection is backed by warranty cover specific to each range. 
UV PRINTING
State-of-the-art UV print technology is available on certain materials for maximum colour retention. 
WIND RESISTANT
Flare Shade umbrellas are steadfast in all weather conditions including heavy winds and rain. 
POP UP MARQUEE MAINTENANCE & SETUP
Your Flare Shade pop up marquee will last for many years with the correct care and maintenance. We recommend two people when setting up your marquee. There are labels on the truss bars showing where to grip when opening and closing the gazebo. All Flare Shade marquees have been quality checked before leaving the factory to ensure they will perform perfectly from first time setup. Your new folding gazebo or folding marquee should open easily. Never force the marquee open.  Once the marquee is open the corner roof connectors should be locked into position. After all roof connectors have locked into position, each leg should be extended and the locking pins engaged. The legs have several holes so the marquee can be set at your desired height. After the frame has been fully opened and legs engaged, secure the roof straps to the frame and pull down to tension the roof. This will prevent the roof from pooling water in heavy rain. When using outdoors on grass you should always secure your marquee with the steel pins and straps provided. If used on hard surfaces such as concrete, Flare Shade have steel weight plates and sand bags that can be purchased. Pop up marquee canopies can be cleaned using any light diluted detergents such as dish detergent. Always ensure that the roof is completely dried before being stowed away.
POP UP GAZEBO ACCESSORIES & SPARE PARTS
The Flare Shade FX-6 and FX-7 folding marquees have a large range of accessories and most importantly, spare parts, should your marquee or gazebo be accidentally damaged. Flare Shade holds every component for each size marquee in stock and ready for immediate dispatch. Replacement legs and truss bars, nuts, bolts and connectors are always available. Damaged truss bars or legs are easy to replace and normally can be done in several minutes. Should the gazebo canopy be damaged, it can be sent back to our warehouse where our marquee repair department will repair and return it to you promptly.
Flare Shade has a large range of pop up gazebo accessories including full length walls, half walls, awnings, steel weight plates and sand bags. The walls and half walls can be custom printed with your company logo or message. Full digital printing is available so that full colour photographic images can be incorporated into the design. The X6 & X7 come standard with heavy duty wheeled carry bags which make transporting your marquee easy. Steel pins and hold down straps are also included with all marquees and pop up plain and custom printed gazebos.