CAFE UMBRELLAS
Flare Shade Cafe umbrellas are a modern European style outdoor shade solution. The square Saville and octagonal Matisse are the Flare Shade signature commercial cafe umbrella series. The Matisse and Saville umbrellas have a striking thirty sided pole along with matching symmetrical ribs and laser engraved extruded aluminium hubs. Designed and crafted by the Flare Shade team, the Matisse and Seville cafe umbrella range offer unrivalled quality, durability, strength and stability. Read More
The Flare Shade Saville cafe umbrella is available in 2.0×2.0, 2.5×2.5 and 3.0×3.0 metres. The Saville's square shape is both visually modern and provides lots of shade to keep everyone cool and relaxed. The thirty sided Flare Shade signature extruded aluminium pole is 50mm in diameter and is 2.8mm thick providing great strength and stability. The Saville's ribs are made of reinforced aluminium and match the symmetry of the signature pole. The upper and lower hubs are made from forged aluminium and will endure long term use. The canopy is available in an array of vibrant  Olefin or Spanish Recasens colours.. Custom branding is available on the four canopy sides.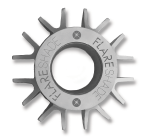 CONNECTOR HUB
POLE & TRUSS
POLE & CONNECTOR HUB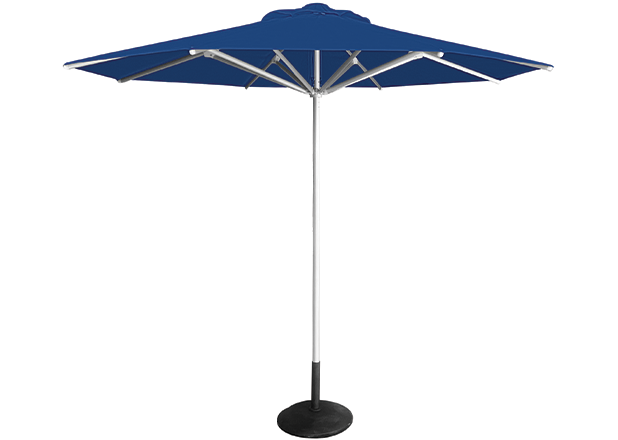 The Flare Shade Matisse cafe umbrella is available in four European style octagonal sizes including 2.5, 3.0, 3.5 and 4.0 metre diameters. The Matisse cafe umbrella is as strong as it is stylish. The thirty sided signature pole and matching canopy ribs make this frame the strongest in its class. The pole is made from 2.3mm  extruded aluminium and the ribs an impressive 17x32mm cross section and 1.8mm thick. The rib junction hubs are made of heavy duty forged aluminium. The Matisse is available in a large range of plain or striped vibrant colours or can be custom printed with restaurant names or business logos. The Matisse is a premium commercial cafe umbrella and perfect for restaurants, resorts or home pool sides.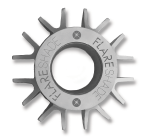 CONNECTOR HUB
POLE & TRUSS
POLE & CONNECTOR HUB

The Flare Shade Square Classic Cafe range is 2.2×2.2 metres and made from extruded aluminium. The 40mm diameter pole will fit easily into the centre hole of any restaurant or cafe table. The canopy is made from a heavy duty fade resistant acrylic fabric which is available in a range of vibrant colours. The canopy can also be custom printed with logos or other graphics. The Standard Cafe umbrella offers both quality and great value.
CONNECTOR HUB
STYLISH TOP
EASY PACK-UP

The Flare Shade octagonal Classic Cafe range has a 2.7 metre diameter canopy and made from an all aluminium extruded frame. The aluminium pole has been designed to suit any table with a centre hole or can stand alone in a steel plate umbrella holder. The heavy duty canopy is available in an array of vibrant colours. Made from acrylic the canopy fabric will  endure many years of use and is fade resistant. The canopy can be custom printed.
CONNECTOR HUB
STYLISH TOP
EASY PACK-UP
PRINTED CAFE UMBRELLAS
Flare Shade offers a diverse range of custom printed umbrellas. A significant advantage of printed umbrellas is their ability to make businesses stand out from the rest and promote products, services and/or companies. They are perfect for use at cafes and restaurants to shelter customers from the weather and they also create a unique and outstanding appearance.
Flare Shade's Business, Saville and Matisse umbrellas are all available with custom printing. This customisation is available in two printing options: screen printing and UV LED printing. Screen printing is highly economical and it is available with the choice of our Spanish and Italian fabrics. UV printing is an advanced form of digital branding technology which has superior colour retention and can last up to three times longer than sublimation printing. Once the umbrella style and printing method have been nominated, our expert graphics team are available to assist with artwork for production.
Connector Hub
Flare Shade's unique laser engraved branded centre hub is a sure-fire way to tell our product from the competition. When you see this, you can be certain you're receiving the finest premium café umbrella product on the market.
Custom UV Printing
We apply a revolutionary custom printing technique to our PU-coated poly material for any patrons looking to give their branded umbrella extra vibrancy and extended colour life. This print method utilizes advanced UV technology to produce stunning, fade-resistant graphics that pop. 
Frame Colour
Further customize your café umbrella with the choice of a black or silver frame colour. This finish is achieved through an anodization process which gives the extruded aluminum frame its fine, metallic surface and also increases wear-resistance. 
Accessories
Flare Shade Café umbrellas are best mounted upon our 500x500mm steel base. This 19kg ground plate is designed to be a stable and durable foundation for any size café umbrella. It even includes corner bolt holes for secure long-term installation. 
WARRANTY
Our complete product selection is backed by warranty cover specific to each range. 
UV PRINTING
State-of-the-art UV print technology is available on certain materials for maximum colour retention. 
WIND RESISTANT
Flare Shade umbrellas are steadfast in most weather conditions including winds and rain. 
Flare Shade Saville & Matisse Patio Umbrellas
Flare Shade's Saville and Matisse café umbrellas are undeniably the strongest and most sophisticated umbrellas in their class. Boasting a stylish 30 face pole and reinforced ribs, the quality of these umbrellas is second to none. Further enhancing the strength of Flare Shade's Saville and Matisse café umbrellas is their commercial grade nylon connectors and marine grade aluminium poles. The forged aluminium, laser engraved signature hub in these umbrellas not only looks stylish but it increases both their lateral and pivotal strength. The poles for these umbrellas are available in either a sophisticated jet black or a flawless silver aluminium. Both of these colour options are chic and classy! Flare Shade's Matisse and Saville umbrellas are available with black steel base plates which vastly increase the structural integrity of the umbrellas. These heavy-duty umbrellas are available in a huge range of colours in two high quality fabrics. Our Olefin fabric is economical, water resistant, fade resistant and it comes with a two year manufacturer's warranty. Our imported Spanish Recasens fabric is a top-of-the-line fabric; it is both robust and durable. Recasens is a family-owned company with 100 years of experience creating top-end fabrics worldwide. They are well-known in many countries for their advanced, innovative fabrics which are ultra heavy-duty and fade resistant. As a result of its pure strength, our Spanish Recasens fabric is backed with a five year manufacturer's warranty. The Saville and Matisse umbrellas are portable and can be transported with ease which makes these café umbrellas very popular in an array of places, including restaurants and cafes. Flare Shade's café umbrellas allow businesses to protect their customers from the harsh Australian weather conditions while also creating a fantastic appearance for their business.
Classic Café Umbrellas
Flare Shade's Classic Café Umbrellas are durable, portable and affordable! Our cutting-edge Classic Café Umbrellas are available in a 2×2 metre square shape and an advanced 2.7 metre diameter octagonal shape. Both umbrellas are available in an extensive range of vivid colours in our heavy-duty acrylic fabric. This fabric is both water and fade resistant which makes it a fantastic solution for outdoor use. Boasting premium nylon connectors, our café umbrellas are heavy duty and can withstand an array of weather conditions. Black steel bases are also available to secure these umbrellas outdoors. Additionally, aiding in the practicality of our Classic Café Umbrellas is their 40mm diameter pole as it is the perfect size to fit in the middle of most tables at restaurants and cafes. Due to the sheer strength and durability of these umbrellas, Flare Shade's Classic Café Umbrellas are backed with a five year manufacturer's warranty.
Premium Branding Solutions
Are you looking for a shade solution that will provide shelter for your customers and promote your business at an affordable cost? Flare Shade's custom printed café umbrellas are the perfect choice for you! Our design team at Flare Shade offer 18 years of experience in high quality customisation of shade solutions. Our breadth of knowledge in the field has meant that we are able to offer personalised, competent and proactive assistance in creating the perfect custom printed umbrella for you. Our graphics team are happy to create complimentary visual mockups to provide visual examples of custom café umbrella designs. For the convenience of our customers we offer a variety of communication platforms, including in-person, Instagram, Facebook, email or via phone call. Flare Shade offers affordable screen printing and revolutionary UV LED printing. Our screen-printed umbrellas are great value for money, durable and have an elegant matte finish. There are an array of advantages of our UV printed umbrellas which include, but are not limited to, their premium semi-gloss finish, fade resistance and ability to last 3 times longer than standard printing. Our friendly sales team are always available to discuss the advantages of both umbrella print options.
There are so many options. Can I speak with a consultant over the phone or in person?
Yes – Flare Shade has a Brisbane office with a sales team happy to assist with all of your queries. Our team have been specially trained with a depth of knowledge regarding umbrellas and relevant product. They will answer any questions and help identify the right umbrella for you.
What is the price of a cafe umbrella?
Flare Shade Australia offers premium quality umbrellas at competitive prices. Café umbrellas start from $695 for the 2.2×2.2m Square Standard Café umbrella. Pricing will vary depending on size, frame and fabric type. Our friendly team can arrange a quotation for you, or you can find all individual prices listed in our online store.
Can I mount a cafe umbrella on a timber deck?
Yes – Flare Shade Café Umbrellas can be bolted to either timber or concrete surfaces. This will require ordering the 23kg square base plate in addition to your umbrella frame, as it features the appropriately sized, pre-drilled boltholes for secure installation.
What sizes are Flare Shade cafe umbrellas available in?
Flare Shade offers a great range of sizes. The café umbrellas are available in a 2×2 metre span, 2.5×2.5m and 3x3m in the square Saville range, or 2.5 metre diameter, 3m, 3.5m and 4m in the octagonal Matisse range.
Are square or octagonal shape cafe umbrellas more popular?
The square and octagonal café umbrellas are both popular options. The deciding factor is ultimately up to your available space and personal aesthetic preferences.
What colours are available?
Flare Shade has a wide variety of colours available in two heavy duty fabric types. In our durable Olefin fabric we have over twenty different colours from standard primaries, black, white, a variety of neutral browns and greys and even striped designs. Our imported Spanish Recasens fabric also features its own unique range of vibrant and striking colour options. If you don't find the perfect choice among this large range to suit, you can always opt for custom printing to produce the exact colour and customised artwork of your choice.
Can I purchase a café umbrella with a black frame?
Yes – Your choice of finish can be either a powder coated black or the classic anodised metallic grey.
Will my Flare Shade umbrella fit the hole of a cafe table?
Flare Shade's café umbrellas are designed to fit most café table umbrella holders. Our Standard range is manufactured with a centre support pole specified to a 38mm profile size. This makes it suitable for most outdoor tables while not sacrificing key material strength. As all manufacturing and product specs vary to some degree, Flare Shade cannot guarantee that the umbrellas will fit every café table.
Can I get replacement parts if my cafe umbrella is damaged?
Yes – Flare Shade offers replacements for all individual umbrella parts. If the product is accidently damaged, simply purchase the parts required – no need to replace the whole umbrella! Our team can assist in determining which components are damaged and need replacement.